We anchored for several nights in beautiful Bahia Los Frailes (The Friars) about 70 miles east of Cabo San Lucas. We finally deployed and tested our new inflatable kayaks (fun, fun, fun). They are also supposed to be rigid enough to use as paddleboards or surfboards, and I am hoping to try one soon as a ski-board behind the dinghy.
One day we joined three other cruising couples and took a walk back into the "bush" about 1.5 miles (past an encampment of Canadian camper trailers – no electrical hookups or running water for them!) to a wonderful restaurant where we had a great seafood lunch and had the whole place to ourselves.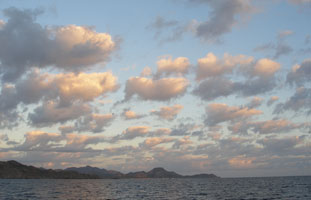 Further east of Los Frailes we spent a few nights at Los Muertos (yes – Dead, but as in underwater moorings to hold boats in place). We had a great snorkel adventure, swimming with the indigenous king angels and guinea puffers, also some moorish idols, one of my favorite fish. My golfing friends and family will enjoy the fact that I found a golf ball (underwater) during the snorkel trip. There is a golf course just above the beach (that cannot be seen from water level). The course is new and was offering an "introductory" rate of $175 per person for greens fee and cart.

We also tested and practiced our dinghy anchoring technique, essential when we want to reach a beach where there is no dinghy dock. Many cruisers have much lighter dinghys that they can drag onto a beach, with or without wheels (and hopefully avoid flipping it over in surfy conditions). At 500+ pounds this is not possible for us, so we can now anchor the dinghy just off the beach and wade in. We will also use the kayaks to get to shore if it might be too wavy for the "dink" or we just need the exercise.