There's a lovely French couple, Delphine and Franck, who are traveling the world on their 40-foot sailboat La Loupiote with their two daughters (about 6 and 8). They've been on the go since 2004, beginning at Brittany, France. After crossing the Atlantic to see the east coast, they cruised the Caribbean and after transiting the Panama Canal are now visiting Mexico. When they stop somewhere they perform an acrobatic/high wire act in the rigging of their SAILBOAT!

Many cruisers need to produce some sort of income while on their journey; these two developed their "circus" idea before starting their sailing adventure. They pass a hat at the end of their performance and often the marina where they "park" will give them free berthing.
They have two different shows that are really spectacular – one a comedy act that would make you think of Chaplin or Lloyd, and another dreamy/romantic sketch. Their physical conditioning and techniques were amazing. We watched them while at Paradise Village in Nuevo Vallarta and then again at Marina Riviera Nayarit in La Cruz when our friends Carol and Phil were visiting from Florida.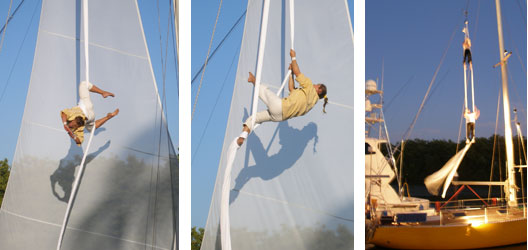 When they depart the Banderas Bay area they'll head to Hawaii, then to the Vancouver area (where they have a paid engagement), and then down the California coast. Their show would really be a treat for Bay Area sailors (and their kids!) to see around various San Francisco yacht clubs, we're doing what we can to spread the word. The awesome Northern California sailing magazine, Latitude 38, did a nice article on them  (coincidentally one of their reporters was in town to cover the "Pacific Puddle Jump" – the annual multi-boat crossing to French Polynesia.) Furthermore, if this wonderful couple could somehow get the exposure get tied in with some upcoming America's Cup festivities, it could be really cool. The performers have a website at voilierspectacle.com but there is not much to it. If they had some time to polish it that would really help them.