We spent about a week around the two islands just north of La Paz – Isla Espiritu Santo and Isla Partida. This visit was just a preview for us; we plan to spend much more time there when we return to that area in the spring.
We have met plenty of cruisers who have pets aboard. Rocky (dog) and KeeKee (cat) were two that we shared a quiet beach with one morning.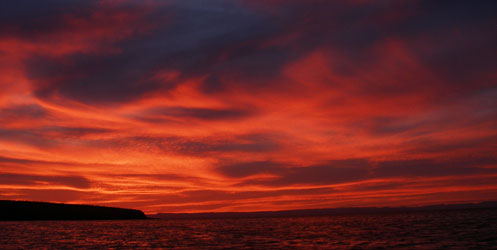 We seem to be overdosing on sunsets lately, there are much different sky views than what we see in San Francisco. This particular one above didn't seem to begin as much of anything, but our patience was rewarded in the final minutes before dark. The night skies are very filled with stars as there is less city-driven light pollution.

In addition to snorkeling opportunities, just walking along a coastline can present opportunities to view sea life. The two photos above (baby Guineafowl Pufferfish, and some young shrimp near an anemone) were taken while looking into a few small tidal pools.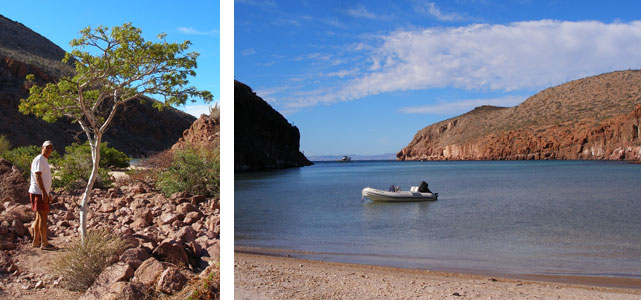 El Cardoncito was a small bay (above) that we traveled to by dinghy while Voyager was anchored nearby in Caleta Partida. Many cruisers are able to drag their dinghies up to the beach (often with wheels mounted below), but because of the weight of ours (about 55o pounds) we have to anchor our "tender" in a foot or two of water and walk in to the beach.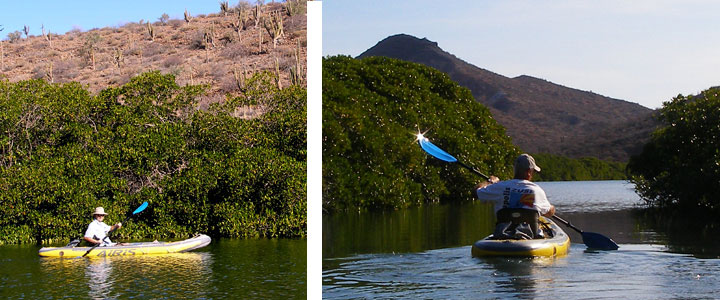 Our new kayaks (Walker Bay Airis) are getting a lot of use, both for transportation and exercise. Some of the bays we have visited are attached to small estuaries that are additional opportunities to view the local flora and fauna.