You'll find these posts will have less and less text over time, no one seems to have time to read any more, anyways!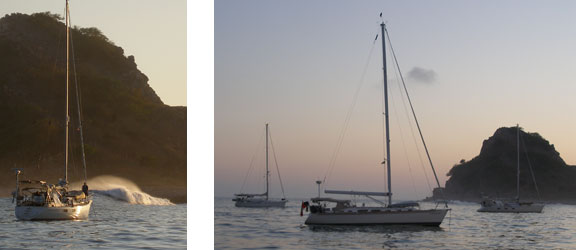 Just prior to our arrival to Marina Mazatlan, we spent the night before at the Stone Island anchorage, just south of downtown. The seas were a little rolly that night as you can see in the left hand photo above (observe the surf break just beyond one of the anchored boats).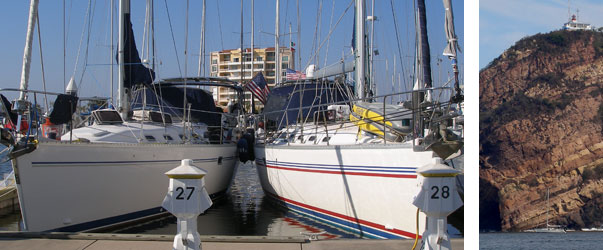 We were buddy-boating since La Cruz de Huanacaxtle with our sister ship Firefly. For the first time on this trip, we had side-to-side (a little too narrow!) slips in a marina.

During our second stay in Mazatlan we tried to do some different things from our first visit. We spent one evening downtown and rode on one of the "pulmonias," which are a larger-version golfcart-looking open-air taxi.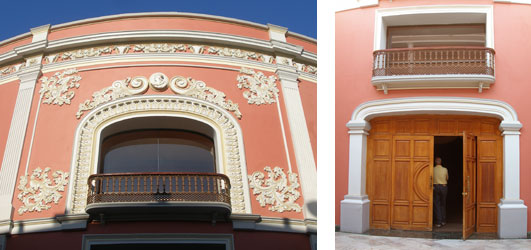 We toured the historic and very lovely Peralta theatre in "old town."

Some of the architecture in this district is quite beautiful.
After seeing the theatre complex, we enjoyed a rare upscale dinner at Pedro and Lola's (yellowtail tuna and veal shanks), and enjoyed an evening open-air art show in the town square with live music to celebrate the conclusion of the Mazatlan Triathalon earlier that day.

Julie & Brenda enjoyed a shopping/sushi day (while the captains were boat waxing!) and happened upon a small parade (celebrating some folkloric dance performers) while downtown.